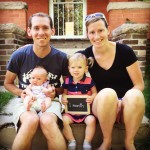 While traveling the world and starting a family with my husband, I decided to follow my passion and found the educational company Blue Mango to provide products and services for early childhood.
I create leveled and phonics based children's books, educational apps for phonics and handwriting and custom illustrations and icons. I also provide local tutoring (Denver Metro Area) for young students grades Pre-K to 3 as well as therapy for children with special needs.
I have over five years of early childhood teaching experience in public charter and independent schools. I hold a B.A. in Architectural Studies (my creative side) as well as an M.Ed. in Early Childhood Education. I am passionate about working with students with diverse learning needs and have experience with ADD/ADHD, Asperger's, dyslexia, dysgraphia, sensory processing disorder, Rett's syndrome and Smith Magenis syndrome.
I currently live in Denver, CO with my husband Jason, our daughters Reagan and Makena, and our two cats, Keeper & Kevin Bacon.