"Any OT will tell you that the foundation for fine motor skills lies in strength and stability of the core… plenty of gross motor play and time on playground equipment outside is really important for handwriting."
– Rachel Coley, OT, CanDo Kiddo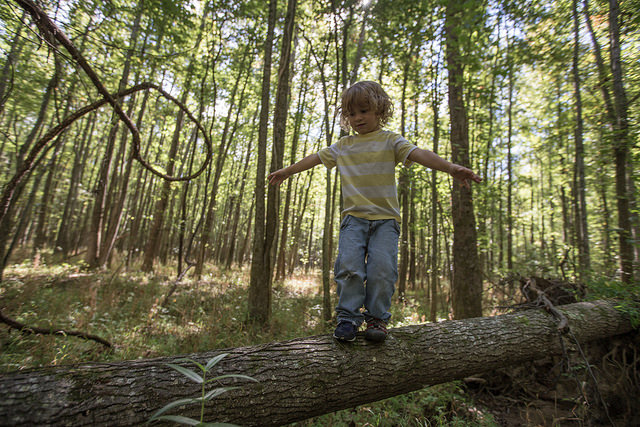 When I was little we had a huge tree fall down in our front yard. It had to be chopped up in order to be removed and we kept some of the large tree stumps.
I have a vivid memory from when I was 8 years old of taking one of these tree stumps (probably about a foot thick and 3 or more feet in diameter), turning it on to its side and rolling it out of the garage.
I rolled that monstrosity all the way around to the back of the garage and propped it up on the garage in order to climb up on the roof.
I then had the notion to ask my parents if it was okay to move the tree stumps – which according to me were just sitting in the garage collecting dust – and their prompt answer was no.
So back out I went and rolled the whole tree stump back into the garage. Talk about a full body workout! Maybe this is why my handwriting is so fantastic today.
Are we making sure our kids are having those same experiences today? When we add in more scheduled, structured activities – what are we taking away from them?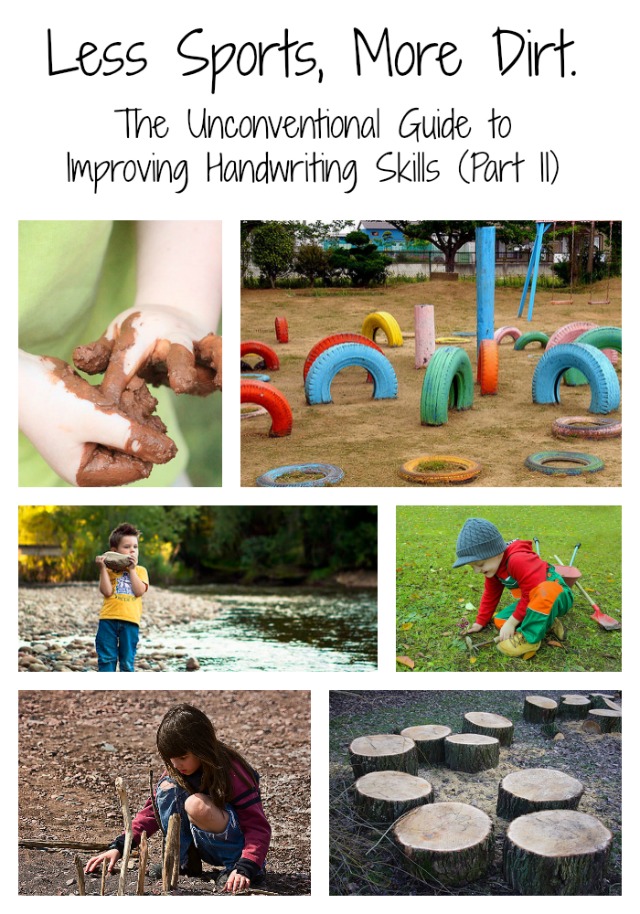 Wait, what does outside play have to do with handwriting?
In Part I of this series on how to improve handwriting skills, I discussed how physical activity – specifically developing a strong core – was directly related to fine motor skills and handwriting.
Children today are significantly weaker, spending less time in unstructured free play outside (both at home and school) and more time in front of a screen resulting in a lack of proper core strength and stability.
I planned to focus Part II on more structured indoor activities that involve developing the pincer grasp (the ability to pick something up with the thumb and forefinger) and other fine motor arts & crafts activities.
However, after doing more research I found that again and again every expert strongly recommended that the most important thing for kids to develop fine motor skills was unstructured free play outdoors.
It's making me seriously consider sending my daughter Reagan to a forest Kindergarten for preschool.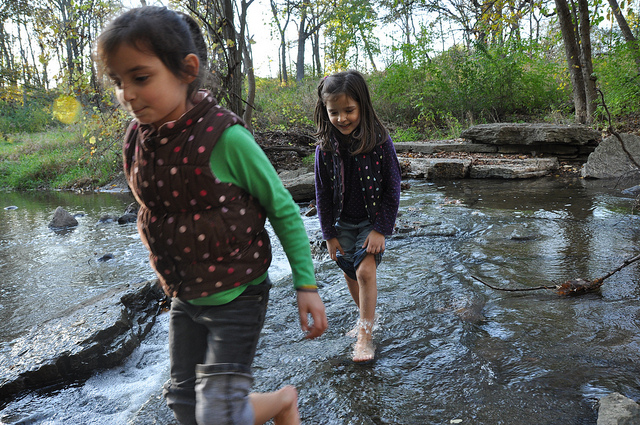 This time around I had the opportunity to speak with Rachel Coley, pediatric occupational therapist and owner of CanDo Kiddo.
When I asked her what schools should be doing in preschool and the early grades to promote fine motor and handwriting skills, she again emphasized the importance of outdoor play.
Any OT will tell you that the foundation for fine motor skills lies in strength and stability of the core muscles (belly and back), shoulders and arms. Letting toddlers, preschoolers and early elementary kids have plenty of gross motor play and time on playground equipment outside is really important for handwriting.

Often that type of play doesn't feel like it fits with our emphasis on early curriculum but it does and can contribute greatly to fine motor skills and handwriting.
While there are lot of great Pinterest-worthy activities and materials that can help hone children's fine motor skills – and I share some of these with you in Part III –
I realized it was most important to focus on what parents and educators can do to ensure their children are getting enough (and the correct) physical activity to improve handwriting skills.
Here in Part II, I'm going to provide you with some solutions and ideas for how to provide the right environment and materials to stimulate this very important type of play.
Are sports actually helping your kids get stronger?
Many parents rush to sign their kids up for sports the moment they can walk to give their little athletes a head start.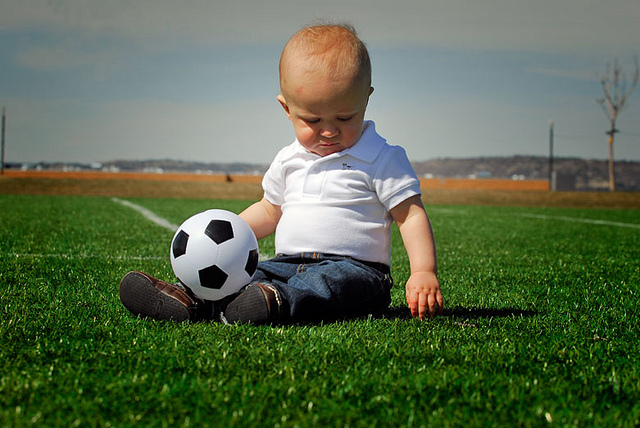 However, when you talk to the experts, the overwhelming advice from pediatric PTs and OTs is to let children play on their own and they will seek out the activities that they need to develop.
At the early elementary age (and younger), popular team sports like soccer don't require lots of strength but involve mostly a lot of herd running.
In addition, over-scheduling your child in various sports will end up cutting out precious time for unstructured free play outdoors.
Rachel Coley, mentioned above, thinks sports can be good for children but doesn't believe it should be the focus for young kids.
The irony is that we tend to really push sports on young kids so they are getting physical activity. But it's structured and often emphasizes running and ball handling skills.

As an OT, I've treated many kids with fine motor delays who are on competitive soccer teams but can't traverse monkey bars or wheelbarrow walk on their hands.
Angela Hanscom, pediatric OT and founder of TimberNook mentioned in The Unconventional Handwriting Guide (Part I), is still a strong advocate of playing outdoors and shared with me why we shouldn't overemphasize structured exercise programs.
In order to develop a strong core and overall body strength, the most meaningful way to do this is to allow more TIME for children to play outdoors. Children will naturally seek out the neurological feedback they need on their own.

There is no need for constant organized exercise programs. Children will receive the exercise they need through active outdoor play.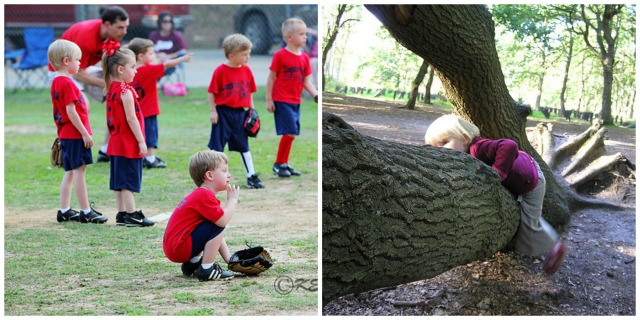 I'm not saying sports are bad for kids. They teach children lots of important skills like collaboration and healthy competition (yes everyone should not get a trophy) among others.
But if you are going to sign up your child up for a sport for strengthening reasons, consider ones that challenge the whole body like martial arts, swimming, dance or gymnastics – these also provide great sensory feedback and help with motor planning.
In addition, stick to just one sport at a time so kids still have plenty of time for unstructured free play and wait until early to late elementary to start. Before that – play is best.
Merritt Haswell, PT, DPT, is a physical therapist who specializes in treating children with special needs and developmental delays.
She has experience in a variety of pediatric settings including early intervention, schools, clinics and hippotherapy (therapy sessions on a moving horse to develop strength, balance, coordination and improve gait).
Merritt believes that sports can be beneficial with certain caveats.
For young kids, unstructured outdoor play is more important, as they learn how to move their bodies and develop their muscles. A lot of important strength development and motor learning happens during this stage and free play is the best way to encourage this development.

When kids are school aged, participating in ONE sports activity is great because it allows kids to develop social skills and learn to coordinate their bodies in a specific way. I emphasize one sport because they still need time for that free, unstructured play for them to continue to be kids!

I also recommend changing up which sport your child is enrolled in so they get to learn different ways to move and can explore what they like to do.
Just remember, there is no quick fix. Parents love to be solution orientated and signing kids up for a class is an easy way to calm nerves – until recently (before my research) I was considering signing up my 20 month old for gymnastics classes to improve her core!

Instead my husband and I take her on outings to explore the Rocky Mountain National Wildlife Refuge. Sports are fantastic – it's how I met lifelong friends and even my husband – but don't forget to slow down and emphasize what's important in childhood – play.
Great unstructured physical activities for kids
While I've been emphasizing how important unstructured free play outside is, I know some parents (in our age of helicopter parents – I really try not to be one!) are hesitant about just sending their kids outside to play and calling it a day.
Parents can still be involved and ensure their children are on the right track by providing kids with the time, proper environment and materials to facilitate high level play.
Check out local parks and resources
The natural environment is the best playground for kids to develop their gross and fine motor skills. My husband and I try to bring our daughter to cool new wilderness places to explore on the weekends – one reason I love living in Colorado.
We try to look for different landscapes that have interesting elements such as trees, uneven terrain, rocks, logs, bodies of water, dirt, sand and unique vegetation.
Often we don't even have to leave the city.
One of my favorite places is the Children's Botanic Garden here in Denver. There is a miniature mountain, suspension bridge, a creek to play in and even little lean-tos to engage children's imaginations.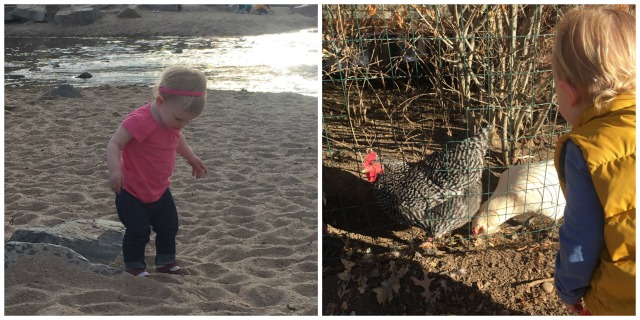 We also frequent City Park to harass the geese and squirrels, dig at the "beach" downtown by the South Platte River and even explore our neighborhood – stealing rocks, running up and down hills in our neighbors' front yards and checking out their chickens.
It's really exciting to take your kids to a new wilderness area, but you can also provide them with a lot of the great type of play they need in your own backyard.
Transform your backyard to facilitate high level play
Kids aren't climbing trees, digging in the dirt, lugging tree branches around to build forts, doing farm chores, etc. So their overall grip strength and senses of the muscles and joints are not as developed and strong as they used to.

Playing in the mud, tinkering outdoors (little outdoor workshop), etc. offer invaluable fine motor experiences. – Angela Hanscom, MOT, OTR/L
Kids aren't getting the same outdoor play experiences that they used to, so how can we set up the environment to encourage this type of play?
If you have any outdoor space at all, or better yet, if you are a school, there are some awesome things you can do to improve your space.
Basically you want to have things kids can jump on/off, climb on/off, heavy things they can move around, areas to dig with small objects and places to roll, run and hang.
My daughter loves playing in our small backyard. She gathers rocks, chases the cats, climbs under the deck to collect leaves and digs in the dirt. However, I know this little wonderland will become quite small and ordinary as she gets older.
So I came up with a bunch of ideas I plan to implement as my daughter gets older and we actually own our house – the perfect blend of my architecture and early childhood degrees!
I couldn't include everything in this post, but you can follow my continually updated board on Pinterest and start pinning some ideas of your own!
Here are some elements you should consider adding to your outdoor space:
Rocks

Of all shapes and sizes! Large rocks are great for climbing and jumping off of. Medium sized rocks are perfect for heavy lifting (be comfortable with your rock garden moving around the yard).
Small rocks and pebbles can be collected and sorted through scooping, digging and using the pincer grasp.
Recycled Tires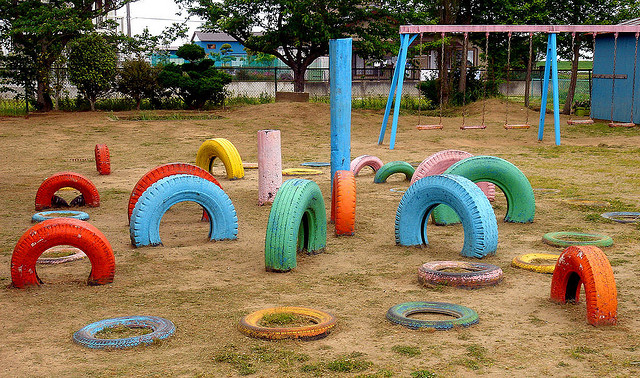 Despite this inspiring image, just one plain old black tire will do.
A tire can be rolled around or used to balance on, jump off of, climb through, hide in or even climb. If you're feeling ambitious, consider making your own tire mountain!
Trees (or monkey bars)
Nothing is better than a good climbing tree. Have you tried recently as an adult? You would think all my planks, push ups and pull ups would make a difference, but I discovered muscles I never knew I had!
Monkey bars are also great for kids (another sad physical challenge for me as an adult) and should not be removed from playgrounds to make things "safer."
Sand, Dirt & Water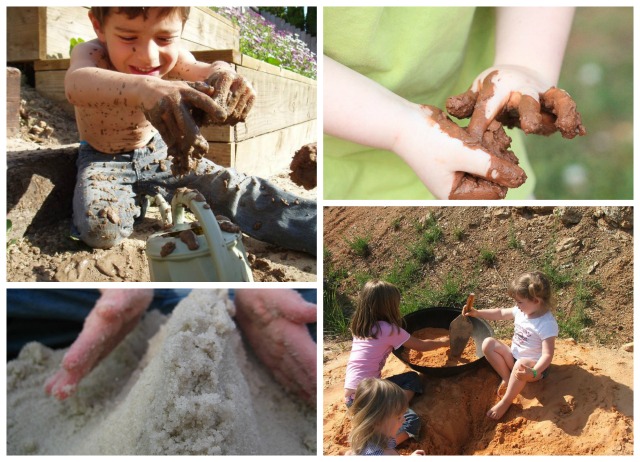 You can easily buy a plastic sandbox but I prefer homemade ones surround by wooden beams – or better yet fill up an old boat.
Sand and dirt provide great mediums to promote hand and finger strength and dexterity. You can dig, poke, scoop and mold with your hand or a simple tool like a stick.
Just add water and it transforms! Sand and dirt also provide fantastic sensory feedback.
Hills
Make a pile of dirt, throw on some grass seed. Hills allows kids to run up, climb up, run down, roll down or sled down.
I used to take my Kindergartners out first thing in the morning to run, throw themselves on the ground and yell. What better way to get this proprioceptive input than on a hill?
Tree Stumps, Logs & Sticks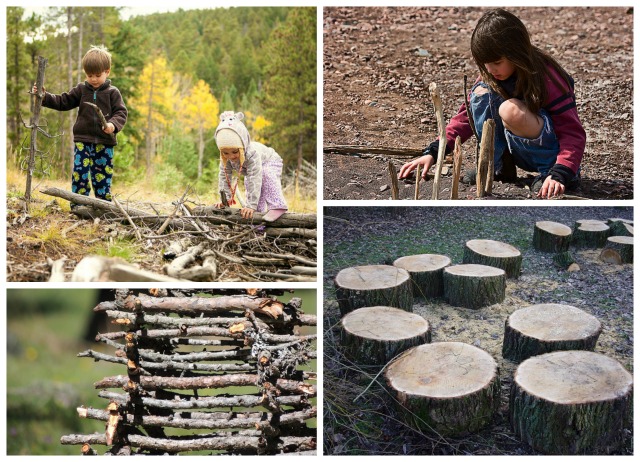 If not too heavy, tree stumps can be turned on their side and rolled around. They can be permanent structures in the ground set up like stepping stones or a table and chairs.
I loved seeing my Kindergarten students in DC try to roll large tree stumps around. While I spent most of the time debating whether I should stop them for safety (and liability) reasons I couldn't help thinking what an awesome playground these kids had at school.
Sticks and logs are great for digging, carrying around (lots of pretend play opportunities) and building with. Different lengths, thicknesses and weights keeps play interesting.
Bricks & Sandbags
These are both great for heavy lifting and allow kids to build with them in open-ended ways.
Bricks can be used just like traditional wooden building blocks. You can also incorporate some dramatic play by drawing dotted yellow lines on bricks and arranging them in a line to create a road for small toy cars.
To make a sandbag, fill up gallon freezer bags with either sand or pea gravel. Seal with duct tape and put inside a small burlap bag. Or you could buy them.
Don't forget to supervise as a dropped brick can be pretty painful on a little finger.
Gardens

More digging in the dirt! Digging holes, planting seeds (great for pinching with that thumb and forefinger), watering and planting flowers all require lots of different movements with the hands and fingers.
In addition, kids are often kneeling, crouched on the ground or propped on their elbows as they focus on their work – engaging their whole body!
Gardens are fun because they spice up kids' experience in nature by adding a few simple tools like shovels and pots. Another way to achieve this is to construct an outdoor kitchen or workshop. They can also be fairly easy and inexpensive to put together.
Other great benefits of outdoor play
Beyond getting kids physically active, this type of open-ended outdoor play fosters important cognitive and social development in children.
I personally emphasize "old school" backyard play and unstructured social play outside at early ages (toddler, preschool, early elementary school) because they offer self-directed exploration through movement, foster curiosity and imagination, and promote social problem-solving – all key developmental tasks of the early years.

The ability of a child to turn a ball, a hula hoop, a rope and a cardboard box into an elaborate pirate ship or make up their own tossing game is a skill called ideation. It's often overlooked but is very important to motor and cognitive development. – Rachel Coley, OT, CanDo Kiddo
When the parents of your child's classmates brag about their busy schedules filled with little league, violin lessons and Kumon, don't feel guilty enjoying that beer on the back porch while you watch your kids roll in the mud.
Remember that your kids are not just having incredible fun, but are building essential skills (handwriting, problem solving, creativity, collaboration with peers) for school and life in the best way possible.
Stay tuned for the third and final part of this series on how to improve handwriting for kids…
Part III: Modern Toys are Ruining Your Child's Handwriting
While getting enough outdoor free play is most important, how can you help your child indoors?
Examining your toys, having appropriate materials available and strategically planning your academic activities in the classroom to emphasize fine motor work can all make a big difference.
Find out here in Part III some of the best materials and activities you can implement in your home or classroom – and what you should toss away.
Image Credits: Brad Kebodeaux, Monsieur J., Travis Swan, Rachel Medanic, soapylovedeb, allison, madaise