"Formal academic instruction in the preschool years may not be in the best interests of many of our children, and in fact, may be damaging to some of them in the long term."
Early childhood curriculum is best when it addresses, "children's lively minds so that they are quite frequently fully intellectually engaged." – Lilian Katz, PhD
The Washington Post article on Defending the Early Years' Lively Minds report by Lilian Katz stirred up so much engagement on Blue Mango's Facebook page, I thought I'd explore the report in depth and break it down for you.
This research is so important for anyone working in an early childhood classroom or passionate about the development of young children.
You can read the full report yourself here, watch the short video below that gets to the heart of the report's findings, or read on to find out my professional review of the report and its implications for early childhood education.
For decades there has been constant debate about how much academic instruction should happen in the early childhood classroom (child care centers, preschool and kindergarten).
It's often seen as the difference between unstructured free play and academic prep – the sooner your child can read the better!
What made this report so powerful for me was the fact that it distinguished between academic and intellectual goals – and I realize I've been focusing on the latter all along.
Young children need more than just free play
I admit to relentlessly promoting the value of unstructured free play. However, at the same time, I realize it wouldn't be fair to say I support children doing whatever they choose with minimal adult direction all day long.
While I do worry about that my daughter's preschool is too structured and academic – she's not even 2 yet! – I admit, as an early childhood educator, I am doing things to prepare her for school and future academics.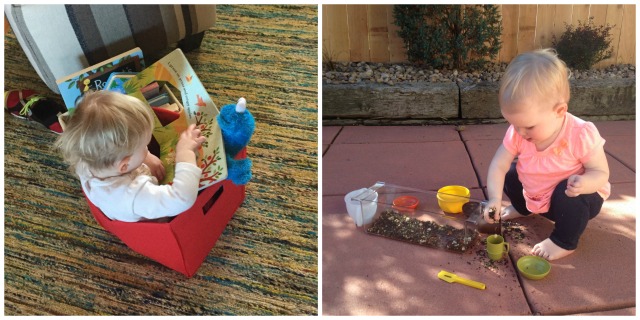 I am constantly working on cognitive, social emotional and pre-reading skills with my daughter:
I help her stop and notice the little details of each flower – its shape, color and texture – when walking outside to build her curiosity and attention span.
I ask her to look at people's faces and actions to infer their emotions.
I point to the words in a book when reading aloud to develop print awareness and talk about the illustrations and unfamiliar words to build her vocabulary.
I constantly spell her name and point out the letters or label pictures that we draw together.
When she's struggling with a task, I encourage her to experiment and try again to develop problem solving skills and persistence.
Most importantly, I balance the time she has at home between self-directed independent play and activities where I am more hands on.
Would she have asked to get the play dough out herself? Would she have known you could use a plastic knife to cut it into pieces or request tiny stones to hide inside it?
Working within her Zone of Proximal Development I can help her achieve goals that are slightly beyond her reach with just the right amount and type of adult support.
Academic Instruction vs. Play & Intellectual Skills
So how can we decipher what is the right kind of guidance and instruction in early childhood to ensure that children master basic skills and are prepared for life-long success?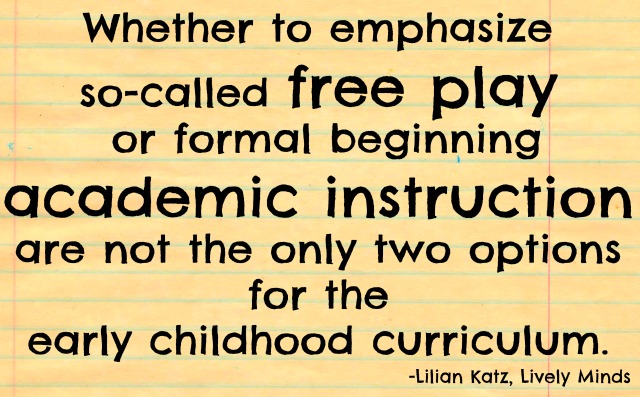 Katz's report says that we don't have to choose between just free play and academics for the early childhood curriculum – we should shift our focus to developing the intellectual abilities of young children.
Free Play
Unstructured spontaneous play includes many things we find typical of the daily life of a preschooler: painting, building with clay, constructing with blocks, listening to stories and singing songs.
Academic Goals
Academics on the other hand are things like counting, learning the alphabet, days of the week, etc.
Academic goals are those concerned with the mastery of small discrete elements of disembodied information. [Academic goals] have correct answers and rely heavily on memorization. – Katz, Lively Minds
Intellectual Goals
Intellectual goals engage the mind and involve,
reasoning, predicting, analyzing, questioning, etc. including a range of aesthetic and moral sensibilities. – Katz, Lively Minds
Play is very important for a whole range of development in early childhood, academics are necessary for success in modern society and intellectual abilities are essential to be successful in any area of life.
The question then is what, when and how much of each goal is appropriate during the education of young children.
Are academics not important?
Katz does not argue that academics are not important. I don't think there is anyone who thinks that learning to read is not an essential skill that schools should focus on.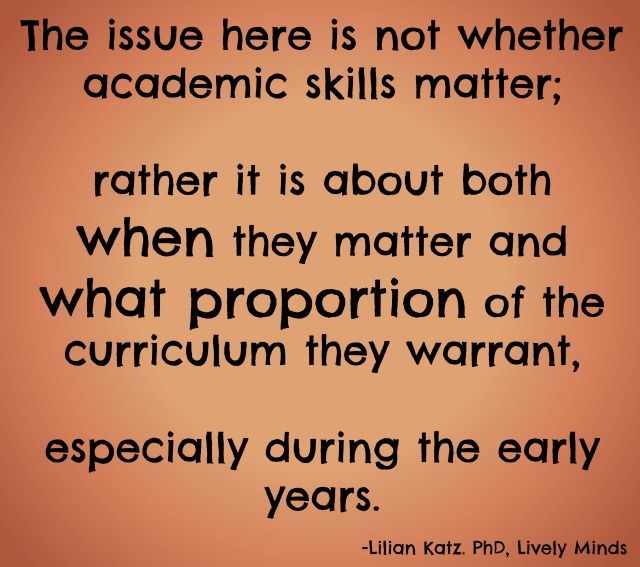 I am very passionate about ensuring that all children become successful fluent readers – one of the main reasons I've dedicated my time over the last five years to:
tutoring students with dyslexia
providing therapy & advocating at IEP meetings for students with special needs
researching & investing money into developing a phonics app to help struggling readers
Reading opens up a world of learning and leads to success in both school and life.
Not to mention the drop in self-confidence and motivation when kids struggle to learn to read and don't have the proper early intervention.
However, just when and how much of this academic instruction is appropriate? For some children, the light bulb goes on at age 4 while others it's not until 7 or later.
Should we be forcing so much academic instruction in preschool and kindergarten to have all kids reading by age 5?
What's wrong with many early childhood curriculums
Katz reports that too much formal instruction too early can be harmful for children' intellectual development.
The concept that "earlier is better" is not actually supported by longitudinal studies. Here are some interesting research (Blair, 2002) to consider:
While "stimulation" is very important, neurological research shows that formal academic instruction is not the best way to optimize early brain development.
Early formal academic instruction is good at producing test results in the short term, but does NOT result in better school achievement in the long term.
Early formal academic instruction is more damaging to boys than girls in the long term though research is not clear right now as to why.
In addition, many child care, preschool and kindergarten curriculums are inappropriate, if not boring for students, and doing nothing to enhance intellectual development.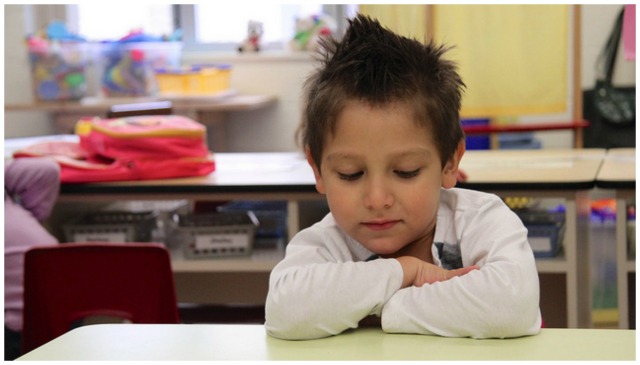 For example, one kindergarten that Katz visited had a year long theme of teddy bears and everything revolved around this – counting, measuring, writing stories about their teddy bears, etc.
This does not meet the criteria Katz says is essential in a good early childhood curriculum – one that is "intellectually provocative, engaging and stimulating."
So what should we focus on in early childhood?
The most appropriate curriculum is one that comes from children as they strive to make sense of their world and personal experiences. Their curiosity and sense of discovery will lead them to want to master basic academic skills.
Early childhood curriculum should focus on in-depth projects and investigations based on students' interests.
When children conduct investigations themselves about things that are significant and meaningful, "the importance of being able to read, write, measure and count gradually becomes self-evident."
Teachers can use these investigations to teach literacy and math skills to help students share their findings with classmates.
During this process children gain both basic academic skills (letter knowledge, writing, counting) and intellectual skills (questioning, analyzing, problem solving, creativity) as the teacher guides them to complete their investigations.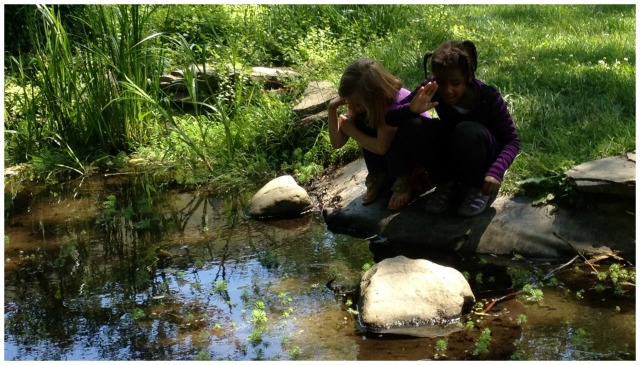 How I approach teaching in early childhood
As an early childhood educator or parent, you probably are working on intellectual goals all the time without realizing it just as I discovered – encouraging kids to ask questions, problem solve, work collaboratively, think creatively and analyze information.
I do believe working on life-long intellectual skills is the MOST important in preschool, kindergarten and even 1st grade. I also highly value in-depth investigations and long periods of unstructured free play for students to really explore and develop.
However, I also don't see anything wrong with working on academics with young children – like teaching those ready to read in kindergarten – but I take time to individualize my instruction for each child.
I am a fan of appropriate goals and assessment, but I don't believe in using concrete standards to force all children to reach the same goal at the same time.
I work on skills that are developmentally appropriate, follow a logical progression, are motivating and stress free to help each child make progress toward important academic goals.
Preschool, K & 1st teachers – how do you teach?
In what ways do you teach academics, intellectual skills and/or play in your classroom?
Do you agree with your school's curriculum?