Picking boogers out of tissues to eat them.
Making robot noises during writing workshop instead of asking for help.
Throwing counting bears across the room because it's time to go to PE.
Pushing another child on the playground instead of saying, "Can I play?"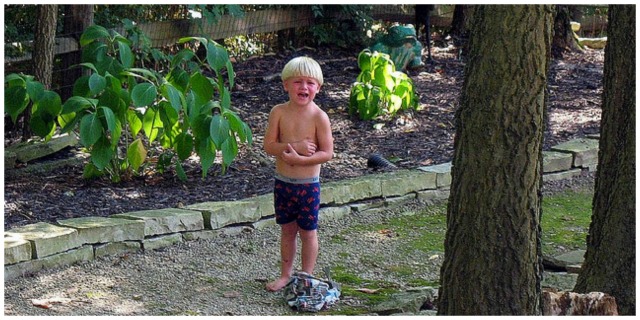 These are all real experiences that have happened to me in the classroom.
Most children, whether on the spectrum or not, struggle at some point with reading social cues and knowing how to act appropriately in different situations.
While kids learn a lot from just observing adult behavior, it's our job as teachers and parents to teach kids how to respond appropriately to different situations (at home, school, a restaurant) and people (teachers, friends, strangers).
So how do we help children learn proper behavior in social situations when it doesn't come naturally? How can we prepare them for new transitions that we know will take them out of their comfort zone?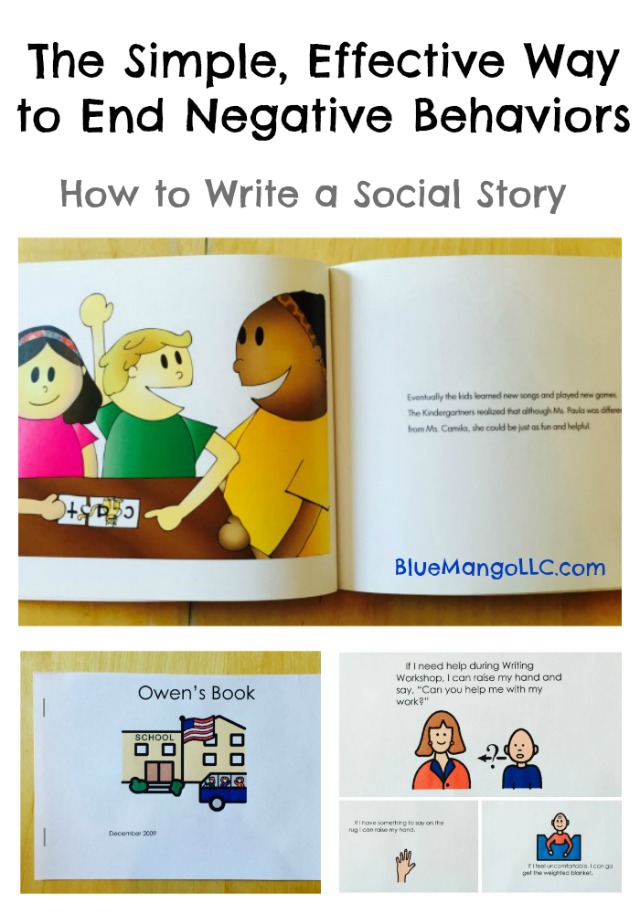 What is a Social Story?
A powerful and relatively easy method to help teach new behaviors to children is to write a social story.
A social story is an original and personal story (best in the form of a mini book) that an adult writes to help a child with a very specific situation he or she is struggling with – like the scenarios above.
It can be used to correct undesirable behavior at home or school, teach a child how to make friends or prepare them for something unexpected.
Not all kids need a social story but everyone benefits from one.
I've written stories to help children ask for help properly during work times instead of disrupting the class, ask a classmate to play with them and deal with major transitions in their life.
What does a social story look like?
In Blue Mango's Vault of Free Resources, I include a book, G is for Girl: A Kindergarten Surprise Story, that I wrote to help my class deal with the maternity leave of my co-teacher mid-year.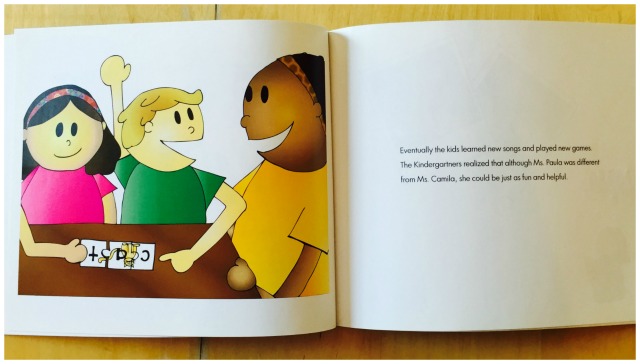 While this is NOT something simple and was a way for me to dabble in illustration, it really helped my kids. They loved that each of them was represented by a cartoon character.
I'm working on writing one right now for my daughter to help her prepare for the arrival of her new sibling in a month.
But just a simple story is very effective – one that identifies the child's negative behavior, how it affects others and gives him or her short concrete steps to turn it around.
While I depict parts of the story below, take a look here at Caleb's book that I wrote to help this student be less disruptive in class.
How to write a social story
Don't worry about your writing and illustration skills – your number one goal is to get through to a particular child, not publish a bestseller. Crude drawings, clip art or PECS along with simple, clear language is all you need.
1. Identify the problem behavior

What is going on with the child you want them to be aware of and correct? Are they calling out, making noises, bothering classmates or engaging in inappropriate hygiene (eating boogers)?
The first part of the book is to identify the problem and point this out to the child. Write exactly what the child is doing even if it sounds silly and use their language.
"Sometimes when I blow my nose, I pick the boogers out of the tissue and eat them."
2. Describe how the behavior affect others
The next step in the book is to mention the specific consequences of the negative behavior for the child, his or her peers and any other people that might be involved – teachers, parents, siblings etc.
Be sure to discuss everyone's emotions (how it makes everyone feel).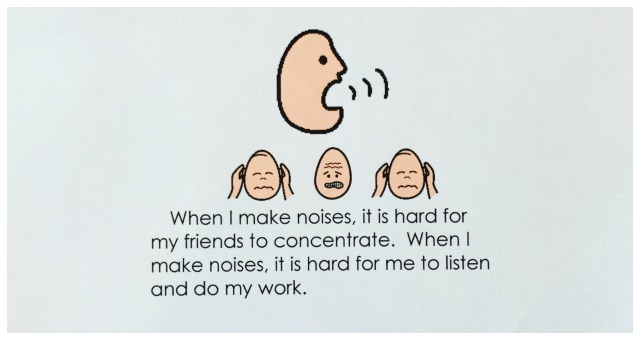 "When I call out when Ms. Meaghan is teaching, it makes it hard for me to learn. When I call out it makes it hard for my friends to learn because they cannot hear the teacher. When I call out it makes my friends frustrated and angry."
The whole point is to be teaching social behavior to kids who are not picking up on the social cues that they are bothering others or actually hurting their own learning.
3. Identify the positive behavior you want to see
What do you actually want the child to be doing instead of the negative behavior? Be as specific as possible when describing what it looks like and sounds like.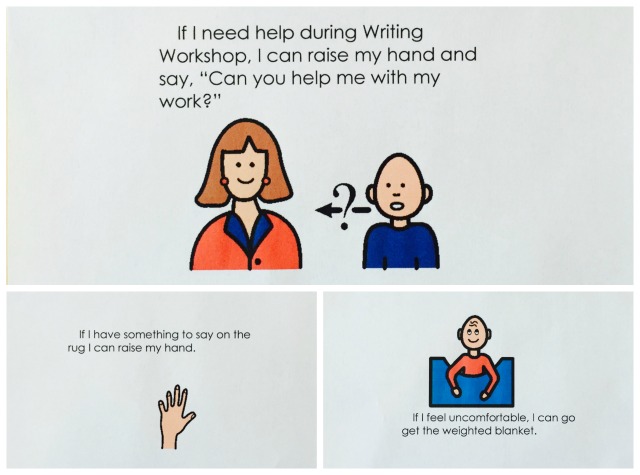 In addition, think to yourself, "Why is the child doing this?"
Does the child need help completing a task but doesn't know how to ask for help?
Is she seeking attention or trying to get a reaction from her peers because she doesn't know how to make friends?
Is he overstimulated and needs to take a break from the action but doesn't know how to get away?
It's important to address the reason behind the behavior so you can help the child satisfy their need appropriately.
"Boogers and tissues are dirty. They have germs and go in the trash can. If I want to eat something salty I can ask for some goldfish."
"If I need help during writing workshop I can raise my hand. When I raise my hand my teacher will come over to me and help me with my work."
4. Describe how the new behavior affects everyone
Last but not least, describe how the new behavior positively affects the child, his or peers and teachers or other adults. This is very motivating for the child.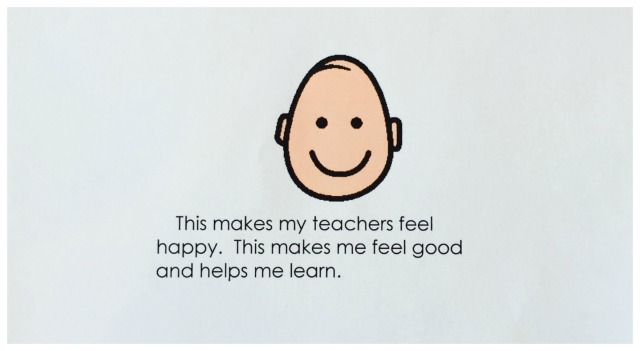 Ultimately all children want to please you whether or not it appears that way. As they begin to engage in the new behavior they will see the positive effects of their efforts – spell these out beforehand in your social story.
Again, work on emotional intelligence by describing the positive emotions that everyone feels when the child is engaging in the new desirable behavior. Also mention what everyone is able to accomplish.
"When I am quiet on the rug I can learn and my friends can learn. This makes me and my friends happy. Being quiet and listening on the rug makes my teacher happy. Learning on the rug is fun when everyone is happy."
Putting the book together
All you need is these four steps! Each step should be a separate page and you may even need to break it down further. The smaller the steps, the better the child understands!
For example in part 4, you could have one page showing how the child is learning and happy and another page showing the child's classmates learning and happy.
The clearer and simpler your language the better – even some of my examples above are a bit wordy. Cut it down more if you can.
Other things to remember including writing in the first person. The ultimate goal is for the child to read the book to himself and take ownership over his behavior. Writing using "I" helps accomplish this.
Add pictures
Pictures are very important in a social story – they can and should be simple but they have to be there. This makes the book more appealing to the child and is another way to reinforce and remember the new behavior.
Draw them yourself
There are a couple different ways to add pictures. I love drawing so I tend to make the illustrations myself if I have time. They're just simple black and white stick figures but they get the point across.
Use Boardmaker's free trial
Another thing I have done is used Boardmaker. First check to see if your school has it. If they don't download the free 30 day trial.
I've done this numerous times – I'm not sure if I've just tried out different products or used different email addresses, but it was pretty simple to do on my home computer.
Google clip art
Googling images is always an option as well. It's easier to find simple descriptive pictures with Boardmaker so I prefer that option but google has a lot to offer.
Have the child draw or color them
One last option is to get the child more involved. If the child loves drawing and you think they are up to the task to draw an appropriate picture, have them do it.
This can be risky because you REALLY want to show the proper behavior. If you don't think they are up for this responsibility have black and white stick figures for the child to color in.
Make it a "book"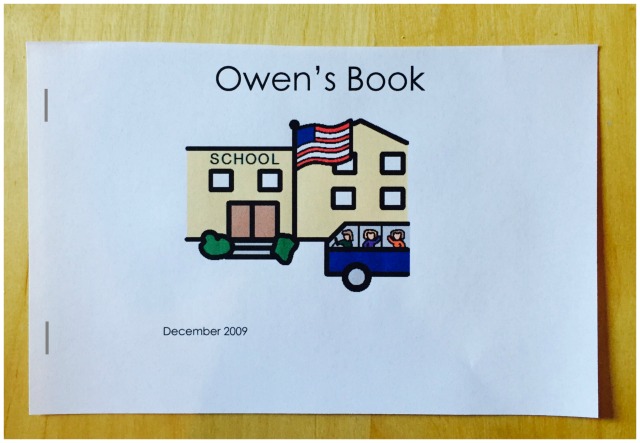 Include a cover with a picture and a title, "Junie's Book." While not shown in the example above, a photo of the child on the front is the best type of cover.
You could also use the child's favorite color in construction paper – anything to make the book appealing to the child so she will take ownership over it and be excited to read it on her own.
Present the book
Once you typed, added pictures, printed and bound your book you are now ready to present it to the child. Find some one-on-one time and read the book to the child.
Discuss the book and have them read it to you if possible. Then give them ownership over the book. Tell them to keep the book in their cubby and allow them to choose to read it during appropriate times throughout the day.
In addition, read the book with the child frequently the first few days and weeks after presenting it to drill in the message. Then you can revisit the book again when behavior starts to slip.
Lastly, involve the family. Make a copy for school and home. Parents will know what's going on at school and can discuss these goals in the same language with their child at home.
Remember, when dealing with any type of behavior, consistency is so important!
Social stories and RTI
RTI or Response to Intervention and is a 3 tiered way to help students – before they start failing. Why wait to give a child support until they are so far behind as to qualify for services?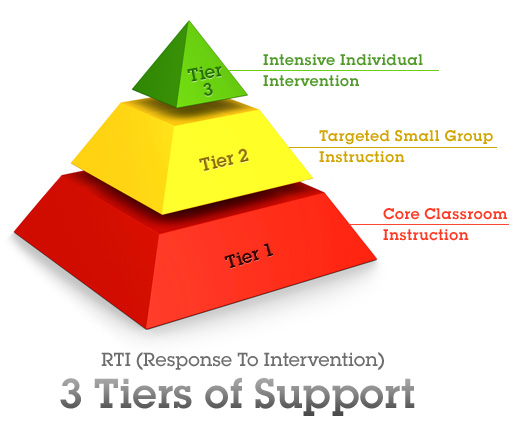 Social stories are a great way for regular classroom teachers to easily support students without any push in or pull out special services.
The great thing about social stories is that they can be used for individual support to target a certain behavior or to prepare an entire class (in hopes of preventing negative behavior) during major transitions like I did with G is for Girl.
Don't wait for a child to fall behind! Social/emotional development is just as (if not more) important as academics.
Free downloads!
My Emotions Booklet
As a thank you for visiting Blue Mango during this blog hop, enjoy a free instant download of My Emotions Booklet.
Students illustrate their own book and then have a handy dictionary of emotions (happy, sad, shy, sorry, impatient, jealous…) to refer to and express themselves in speech and writing.
Blue Mango's Vault of Free Resources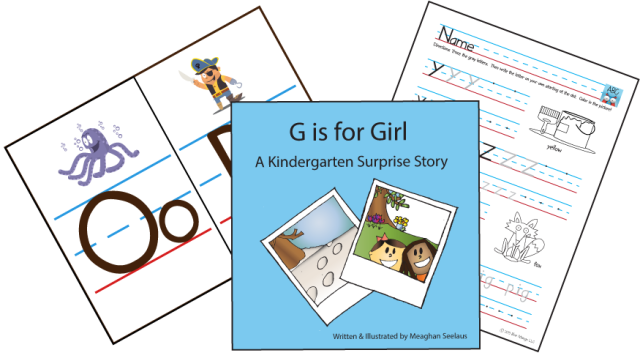 If you'd like access to the Blue Mango's entire Vault of Free Resources – click here! It includes:
Tips to Improve Fine Motor Skills Handout (OT & PT approved)
Writing Center Materials
Ollie's Handwriting Worksheets Packet
Children's eBook – G is for Girl (social story example!)
Alphabet Cards
Customizable Sight Word Flashcards (make your own)
Customizable Bingo Boards (make your own)
May blog hop continues…
Enjoying the School Based Intervention & RTI blog hop? Get great tips and advice from other amazing educator the whole month of May! Click here for the full schedule of blogs and articles.